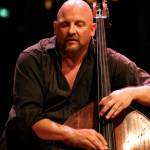 Hein van de Geyn was born in 1956 in Holland. From an early age on he was playing music. First the recorder, later the violin and the guitar. In his late teens he picked up the bass-guitar and became interested in jazz.
Soon Hein was working with some of the dixieland-bands in the south of Holland, but also formed his first bebop group. With this group he received the award as "best soloist" at the contest on the 1977 Laren Jazzfestival. It was after this that he decided to pick up the double bass, and really pursue his career as a Jazz-musician. In the meantime though he finished his classical music-studies at the conservtory of Tilburg.
After gaining much experience in all kinds of styles, Hein went to the U.S.A. in 1980 to tour with Mark Lewis. He decided to move there and did so after graduating, as the first in the country, from the Jazz-department of the Rotterdam conservatory, where he studied with Koos Serierse.
After living in Seattle for a while and being much inspired by Gary Peacock, he moved to San Francisco in 1981. Here he was in a band with John Abercrombie and Larry Schneider, played with many great musicians, recorded some albums, and generally learned a lot about the reality of being a Jazz musician.
In 1983 Hein returned to Europe and has since been establishing himself as one of the most sought after bassplayers in Europe. He has been the bass-player with Philip Catherine since 1985, touring all over Europe and playing in Africa, Israel, Romania and Thailand with him. In 1987 he toured and recorded in Japan with Chet Baker. In 1988 Hein started to play with and arrange for Dee Dee Bridgewater, with whom he has been performing at most of the important festivals in Europe.
Besides these activities, he has worked as a free-lance sideman with many great players, has taught clinics from time to time, and has been bassplayer on some 40 records. Hein is constantly writing tunes - many of them are recorded - and arranges for bigger ensembles from time to time.
In July 1990 Hein made the first album under his own name, a duo with Lee Konitz. He is now working on a solo-bass project. He is also preparing a new recording with John Abercrombie and Joe LaBarbera. Besides his continuing activities with Dee Dee Bridgewater, he is part of a trio with Philip Catherine and Tom Harrell, as well as being with the trio of Tete Montoliu.